The Customer Relationship Management (CRM) market has no shortage of options for companies looking to manage their sales pipeline. Salesforce with more than 100,000 customers may be the most familiar. But others like Zoho (50,000 customers) and Microsoft Dynamics (40,000 customers) also have significant user bases. (source: Capterra)
The big disconnect for the marketing and sales pipeline
What none of these CRMs have is a native integration with a marketing automation tool to manage both the marketing and sales pipeline in one seamless platform. Yes, Salesforce purchased Pardot the marketing automation tool as part of their Exact Target acquisition in 2013 but these are external products with integrations dependent on API integration rather than a single native platform.
Today that changed when HubSpot launched a fully integrated CRM that is native to their existing marketing automation platform.
Why would HubSpot look to connect to this crowded market? Because they felt they could do it better.
"Traditional sales technology is necessary but not sufficient. HubSpot's Sales Platform is designed to arm sales teams with the context they need to improve how they engage with companies, prospects, and leads to drive sales instead of driving people crazy."

— Brian Halligan, Founder of HubSpot
The best tools are those that work together seamlessly.
Anyone who's managed integrations of a CRM with a marketing automation platform knows it can be a serious pain.
Are the fields mapped correctly?
Are we getting duplicates?
How should I cap my API calls?
I've helped integrate a number of CRMs and marketing automation system combinations over the past couple of years for everything from Salesforce, to Sugar, to Nimble, to Highrise and more. It's always complicated and tedious. With HubSpot's release, it now couldn't be any easier.
5 things we loved and 1 we look forward to HubSpot improving upon.
 One platform, one login.
If you're already using HubSpot, accessing the CRM is simple. Your same login is all you need. There is a simple dropdown to move from marketing tasks to sales tasks. Need to manage permissions so different members of your team only have access to the parts of the platform them need? Easy, there's an interface that lets you do that.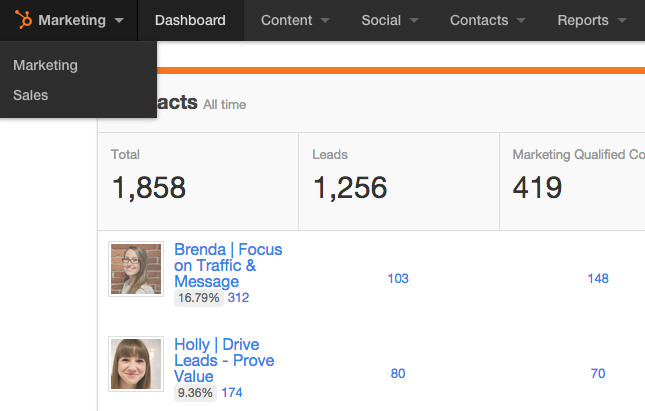 A Simplified CRM
The HubSpot CRM is simple on purpose. If your company has a complex sales management need, then Salesforce is probably still your best option. However for companies that just need a "contacts and deals" manager, then HubSpot's CRM could be a perfect fit. My guess is there are a lot more companies that would benefit from the simplicity of HubSpot over the complexity of Salesforce.
The HubSpot CRM is organized around a few elements.
Contacts
Companies
Deals
Calling
Tasks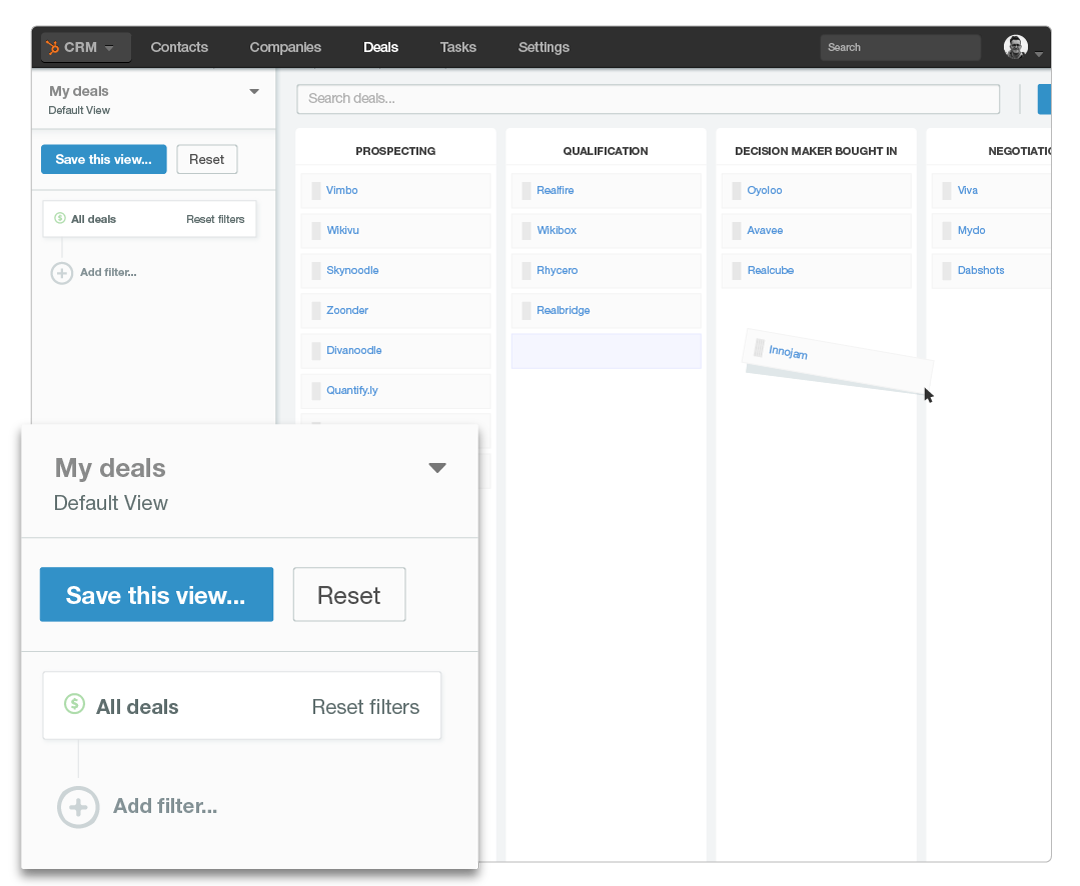 Shared data across Sales and Marketing
The data driving the HubSpot CRM is the same data that drives the marketing tools. There's no integration to worry about; it's the same platform.  Need to quickly find prospects for a special sales campaign? You can sort and filter in the sales view by the same conversion fields you use for marketing. On top of this, they've built in very helpful company intelligence that provides a wealth of information that can help qualify which companies are worth pursuing and which maybe aren't a good fit. A few of these include:
Company Size
Public/Private
Annual Revenue
Geo Information
  The release also co-insides with a complete enhancement of their Signals product
Signals was a product HubSpot released at Inbound13 last year. It provides a basic email tracking function for emails sent out of your inbox. This included who opened your email and who didn't along with some website revisit information.  It was helpful but not a game changer for managing the sales pipeline.
This year, they are re-launching now to be known as Sidekick with a few important enhancements. Along with the existing tracking features, Sidekick will also provide direct information on the company, email connections, contacts and related companies. It is also built to integrate directly with the new CRM so contacts can be easily added to the CRM & marketing automation directly from email.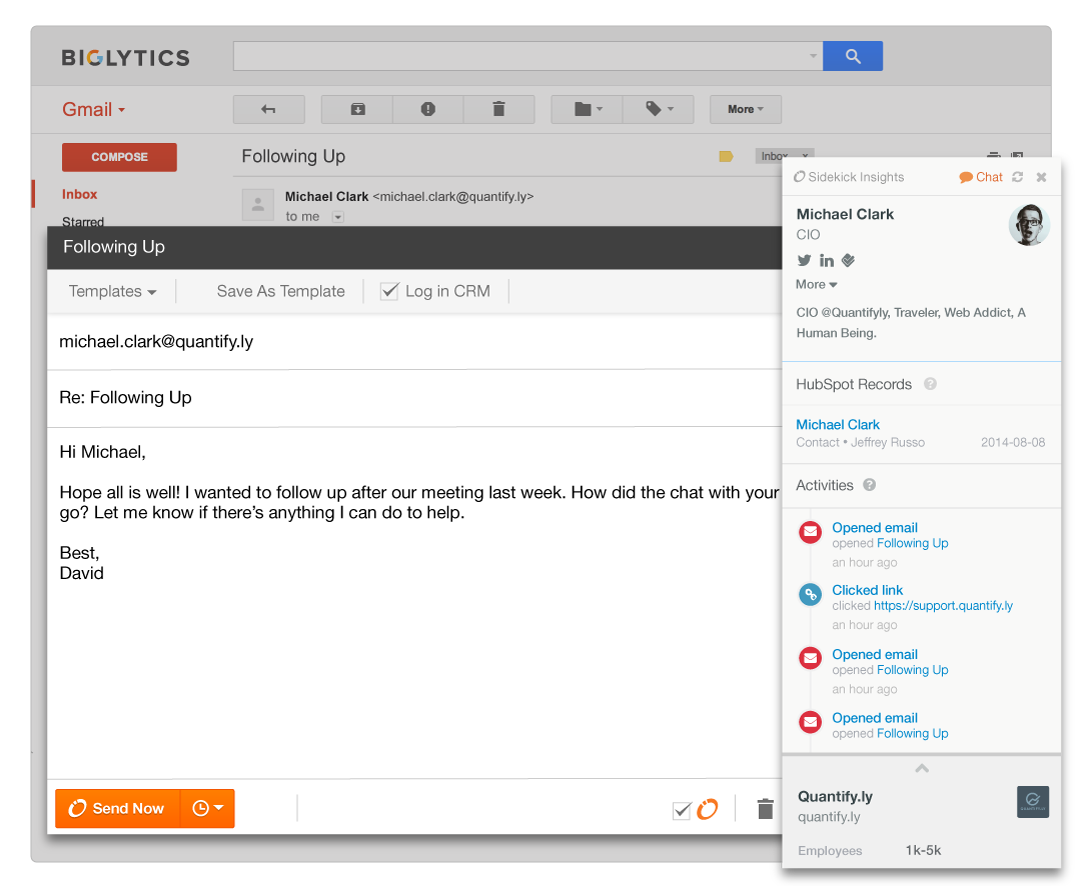 Costs – Free | ok maybe not free but no additional cost
Seriously, if you're already a HubSpot customer, the cost of the new CRM it's built into your existing subscription. No additional costs. There may be some feature limitations based on your subscription level but the base product is pretty solid and at no additional cost is a significant step up for companies using some of the more elementary CRM systems today. Sidekick also has a free level with limited number of emails per month. They have an unlimited version for $10/month per subscriber.
The reporting could be better
In the platform we used for the beta, the sales dashboard reporting was fairly basic. It covered the simple elements of Deal Forecasts, which is helpful.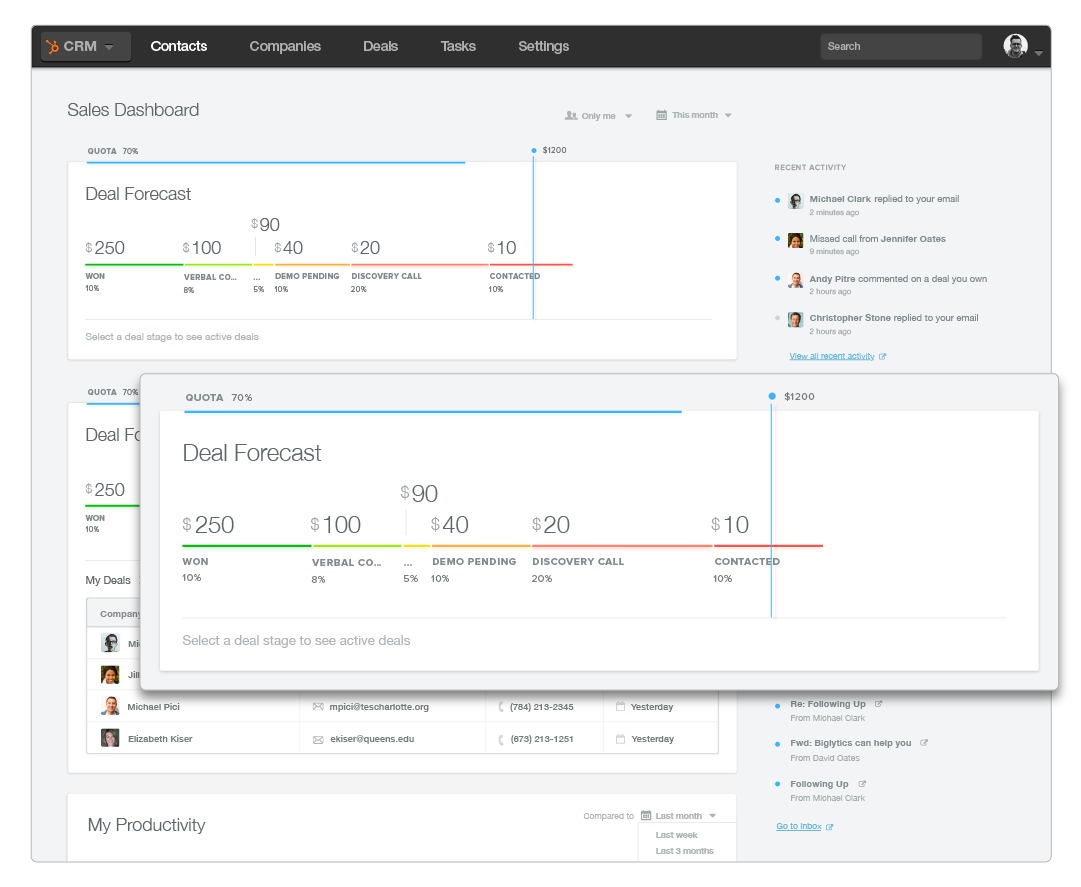 What it didn't have was a way to measure the number of attempts/activities it took to move a prospect through the sales stages. Just like we measure your marketing effectiveness, it's helpful to understand how effective our sales campaigns are at reaching and engaging prospects.  Hopefully, this will be an improvement they add to the system soon. HubSpot is very good at iterating on a product to make it better. Hopefully, this is a feature that makes the roadmap.
So overall, I think the new HubSpot CRM is a great addition for companies looking to manage their marketing and sales pipeline in an integrated manner.