Developing a go to market plan for selling into a new market takes careful planning. If you use a comprehensive marketing strategy template to help organize and coordinate the activities it can make the process smoother.
Every company will have some unique needs to manage because of their product, industry or buyer's need. Still, there are a number of steps that every brand must go through to ensure they communicate effectively with prospects, influencers, and customers. By using a product launch marketing plan template that takes into account the audience's needs, you will help ensure a more successful launch.
The three stages of a product launch marketing plan template
 LEARN HOW :
Pre-Launch Tactics
In the Pre-Launch stage, the goal should be to build excitement and interest among the Early Adopters/Visionaries. You will do this by sharing knowledge and information of what's coming and how it will help solve your buyer's problems.
Your tactics need to include
Trade publication content submissions using a challenge & solution approach
Customer invitations to "Preview Webinars" to see what's coming
Recruitment of Pilot or Beta Group members with free trial for product feedback, testimonials and reference once the product launches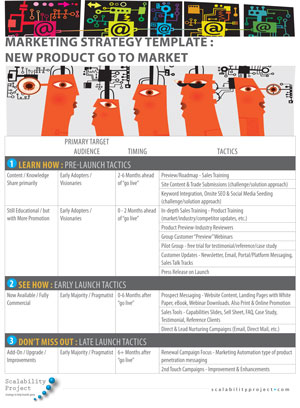 You also need your internal audience excited about what's coming. If they get behind the product with a strong effort, you will have a much better chance of success. Engage your team early and provide them with regular training on product, industry and competitors in the category.
 SEE HOW : Early Launch Tactics
The second stage of launch begins the day you go live and continues for the next six months as you introduce the product to a broader audience. Your tactics at this stage need to provide more backup information that your more pragmatist Early Major customers and prospects will need to help them make a discussion.
Your tactics need to include
Case studies and testimonials you've gathered from your Pilot or Beta Groups
Robust sales tools including sell sheets, FAQ and capability slides for the sales team
 DON'T MISS OUT : Late Launch Tactics
The third stage of launch is all about circling back to customers or prospects that may have missed out at the beginning of your launch. This is also a great time for in-depth conversations with renewal customers about add-ons and product level upgrades.
Your tactics need to include
Marketing automation messaging for renewal customers
Re-marketing campaigns for prospects that weren't ready at launch.
There are many steps to launching a new product. Using a marketing strategy template can help you organize all the activities your team needs to tackle to ensure a successful go-to-market plan.