Interest in marketing automation and lead managment systems has increased significantly with monthly searches for these terms doubling in the past two years alone.
Many businesses are now looking at the technology and trying to decide which among the many platform options is right for them.
What is marketing automation and lead management
Marketing automation and lead management systems refers to software platforms that help automate repetitive tasks by specifying criteria and outcomes for tasks and processes that are interpreted, stored and executed by software. A broad range of automation and analytic tools for marketing are considered for the marketing automation suite.
Rating the best
For anyone in the market for new technology, G2 Crowd is a site you should take a look at. They are a crowd sourced business software review site. The following is a summary of real customer ratings from G2 Crowd along with personal experience from the Scalability Project staff in helping our clients manage their marketing on these platforms.
  Hubspot
One of the world's top marketing platforms which integrates blogging, monitors social  media and publishing, contacts, SEO mail, marketing automation and analytics all in one easy to use platform. They have a very low entry point for their Basic platform, but do require customers to make an initial 12 month committment.
Positives:
HubSpot's platform is very user friendly and intuitive. A true all in one marketing platform that allows marketers to manage nearly all of their digital activities in one place.
Negatives:
They are always making updates and improvements which is great, however this sometimes comes with moving tools around on the plaform which takes getting use to.
Price Range:
$200/month for the Basic up to $2400/month for Enterprise
 Act-On
This cloud-based integrated marketing platform helps smaller marketing teams be successful. It has no database maintenance, process analysis or IT support yet gives you all the tools you need to automate your marketing tasks and see results. Act-On collaborates well with others, integrating seamlessly with the CRM and webinar management systems that you are currently using.
Positives:
Pricing is based on the number of contacts rather than feature sets. Meaning even a low tier has functionality, just with fewer contacts. This flexibility is very attractive for many businesses.
Negatives:
The editing tools and landing page setup can be a little clunky, but once everything is built, they run well.
Price Range:
$500/month for 1,000 contacts up to $6,120/month for 1,000,000 contacts
 Pardot
Pardot is a full featured marketing automation tool that features CRM integration, email marketing, lead nurturing, lead scoring and grading, special posting and ROI reporting. The platform is designed to help marketing and sales teams working together to generate and qualify sales leads, shorten sales cycles, and demonstrate marking accountability.
Positives:
Pardot has many integrations with other platforms. Their Pro version also integrates directly with Google Adwords which is a plus.
Negatives:
Interestingly not every Salesforce setup will integrate with Pardot. Like any system, there will always be exceptions. Be sure to explore the details and don't just assume all will be fine.
Price Range:
$1000/month for Standard up to $3000/month for Ultimate
 Marketo
Provides easy and powerful marketing automation software with everything a marketer needs: B2B marketing and lead management, email and campaign management, real time personalization, and budgets plus a marketing calendar.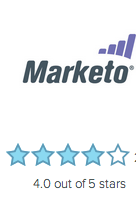 Positives:
The platform is powerful with a large set up and cababilities from email nurturing, lead scoring, landing pages and forms. Its CRM integrations also work well.
Negatives:
Marketo has a wealth of capabilities, however their complexity can be a draw back as we've had several customers who had difficulty navigating the plaform UI.
Price Range:
$895/month for MA Spark up to $3195/month for MA Select
 Eloqua
Eloqua is one of the leading marketing automation platforms among large companies. The platform offers an array of functionality to transform the way you approach sales and marketing, build and manage your database, efficiently execute market campaigns, and score and route leads to sales plus measure marketing's impact on your business-all in a single product suite.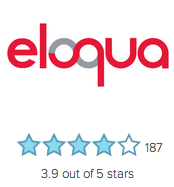 Positives:
Eloqua provides user friendly visualizations to build nurturing programs. It also gives marketers a lot of flexibility to manage their data and integrations.
Negatives:
It is the Cadillac of marketing automation and while powerful, with it comes the a hefty price tag ruling it out of all but the largest marketing budgets.
Price Range:
$2000/month for Basic up to $4000/month for Standard
With all of these great opportunities, it is important to select the features that are most important to your company to capitalize on the key benefits of a lead management system.
Looking for even more reviews to help make your decision. Visit the G2 Crowd site for more customer reviews.
---