There are so many exciting new developments in marketing today from digital to social to inbound. However, if you can't answer the what is ROI of Marketing question, you will quickly find yourself on the wrong side of senior management.
There was a great article this week in Campaign Asia-Pacific that talked about challenges facing marketing professionals. It wasn't technology, or trends in social media. The top challenge was an inability to come to grips with what is ROI of their marketing programs and how their efforts were making a positive impact on their company's bottom-line. Not only is this hurting their program's effectiveness but it's also undermining their own employment prospects.
By and large, marketers are failing to gain the trust of 80 percent of CEOs surveyed by research firm Fournaise in its 2012 Global Marketing Effectiveness Programme. – Campaign Asia-Pacific
The good news there are a number of marketing analytics tools available that make measuring your campaign's effectiveness so much easier today. You just need to take a systematic approach to using these.
Let's focus on your tracking the effectiveness of your website and using web analytics to answer the what is ROI question.
The web analytics market place is dominated by three main players; Coremetrics, Omniture and Google Analytics.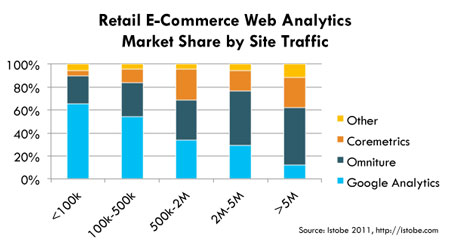 Which is right for your site? Depends on the size of your traffic. High traffic sites prefer Coremetrics and Omniture while the lower traffics sites are predominantly using Google Analytics.
Regardless of which tool is right for your website, you need to follow a few key steps to ensure you will be able to answer the what is ROI of Marketing question of your CEO.
Set objectives upfront
What are the goals of your website? Are you trying to generate Leads for the Sales team or is there another primary purpose of your site? Being clear about what the desired outcome is makes it easier to measure what is working, and what needs improvement.
 Be sure you have agreement and buy-in
Marketing does not happen in a vacuum. To effectively answer the what is ROI question, you must have everyone in the organization on the same page, especially senior leadership. What matters to them, what do they need to make better decisions?
 Start small and keep it simple
Don't try to track every piece of data. Ask yourself: "If I know the answer to this question, can I act on it to improve the company's bottom-line?" If the answer is NO, don't track it.
 Make plans for testing and changes
Web analytics provides information on what HAS happened. So how can you use this information not to justify past activities, but instead to optimize and improve the future bottom line? The simple answer is to think about your marketing as an ongoing experiment. Here are a few examples:
Geo-tracking – Are visitors coming from certain areas? Look at testing hyper local promotions in a few areas to drive more traffic to your store or site.
Traffic Sources – How is the site found? Direct, referral, or search campaigns. Which marketing campaigns should you do more of, which less?
Page Content – Where are people spending time, where are they exiting? Should you add content – or streamline to get more visits to convert to leads? What the best place to put your Call-To-Action button?